About Us
As popularity of stem cell therapy rises to an all-time high, patients are rushing to stem cell treatments and providers are rushing to provide such. However, there is a lack of standard of care, with a general deficiency in the understanding of fundamental scientific principles behind cell therapy, and a lack of awareness of existing clinical evidence, as well as the knowledge in how best to deliver such treatments.
Practitioners sorely need training in various treatment protocols, in order to ensure the safety and effectiveness of the treatments. Modes of delivery of the cell therapy can make a tremendous difference in the clinical results. Various medications can affect treatment. There are also many adjunctive therapies that can enhance cell therapy outcomes.
American Academy of Integrative Cell Therapy intends to fill the void in these important areas,to educate physicians and other healthcare professionals so they would be confident in providing these powerful treatments with maximum safely and clinical benefit.
We have gathered a superb panel of experts to help guide practitioners in various areas of cell therapy, from how to approach various chronic illnesses, musculoskeletal injuries, intractable myofascial pain, female and male sexual dysfunctions, to specific disciplines such as peptide therapy, esthetics, and comprehensive integrative modalities as powerful adjuncts for cell therapy.
American Academy of Integrative Cell Therapy is a pioneering organization, setting high standard in the regenerative medicine community. Its mission is to help ensure and improve the quality of care, be a force of innovation and integrity, and help advance the exhilarating field of cell therapy.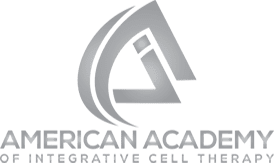 Email Subscription
Register your email address to get information